←
→
IN THE FALL, THE IDEAL PLACE FOR HUNTERS
WARM AND SPACIOUS LIVING ROOM
FULLY EQUIPPED MODERN KITCHEN
MASTER BEDROOM WITH KING BED
DORMITORY ROOM WITH 4 DOUBLE BUNK BEDS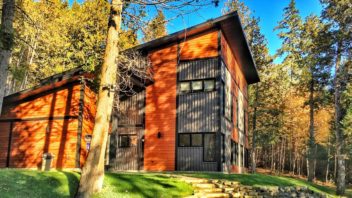 Home
Luxurious contemporary cottage located in the Baie-des-Chaleurs region, 15 minutes from New Richmond, at the Pin Rouge ski station base.
This chalet/villa is for rent on a week or weekend basis. Our chalet is perfect for business meetings.
Sleeps 20 people. It has 4 bedrooms (including 2 dormitory style room with 4 double bunk beds), 2 complete bathroom, 1 half bath with washer and dryer, a living room with fireplace and a play room equipped with a 50 " television and a reading corner.
The Baie-des-Chaleurs region offers a great concentration of year-round activities: beaches, walking trails, mountain bike, salmon fishing, kayak and canoe, downhill and cross country skiing and more.
20 People maximum

Large cottage ideal to accommodate several families

Possibility of business meeting

3 Bedrooms

Two bedrooms with king size beds on the 2nd floor

Two dorm room with four double bunk beds on the 2nd floor

3 Bathrooms

Two full bathroom with  shower on the 2nd floor

A half bath on the main floor with washer and dryer

Amenities

An outdoor hot tub available year round

Outdoor fire pit with adirondack chairs

BBQ and patio table

Wi-Fi and satellite TV
Address
118, Chemin Pin Rouge
New Richmond, (QC) G0C 2B0
Canada
GPS: 48.320654, – 65.729721
118, Chemin Pin Rouge
New Richmond, (QC) G0C 2B0
Canada
GPS: 48.320654, – 65.729721
Tony Constantineau
info@residences-boutique.ca
+1 581 886-3145
Person to contact
Tony Constantineau
+1 581 886-3145